Wheelers Sponsors Automotive Technician Scholarship to Student Through WATDA Foundation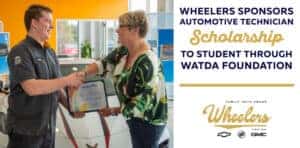 Wheelers Family Auto Group has sponsored a full tuition scholarship to Edward McCardell of Wildrose, WI. He will receive a full tuition scholarship through The Wisconsin Automobile and Truck Dealers Association (WATDA) Foundation.
The foundation is supported by dealerships and other industry partners, and annually awards scholarships to students across the state pursuing their education in automotive, diesel, motorcycle or collision at the Wisconsin Technical Colleges.
"The statewide technician talent shortage is real, and dealerships and shops are facing historic technician shortages in automotive, collision, and diesel positions," said Mary Jo Wheeler, owner. "There is a solution to the current and future demand for skilled transportation technicians and it starts with supporting students interested in these careers."
As part of the scholarship, Wheelers Chevrolet of Coloma will provide McCardell with on-the-job training and mentoring while he attends the GM ASEP program at Fox Valley Technical College (FVTC) in Appleton, WI. In addition to the scholarship, McCardell will receive a tool set valued at $4,855 from Snap-on Corporation headquartered in Kenosha, WI.
"What inspired me to get into the automotive industry is my grandpa and I used to fix tractors on the farm. He taught me a few things and ever since I wanted to work on my own stuff and it eventually grew into where I am today," said McCardell. "I am grateful for this scholarship. My learning experience at Fox Valley has been fantastic. I could not ask for better teachers."
The WATDA Foundation has proudly awarded more than 2,200 transportation scholarships since its founding.
"We're proud to support the WATDA Foundation and its mission," said Wheeler. "Congratulations to Edward and we look forward to having him on the Wheeler team as he completes his education."
To learn more about Wheelers, visit https://www.wheelersgm.com/careers/
To learn more about the WATDA, visit https://www.watda.org/foundation.html
For more information or comment, contact Mary Jo Wheeler at 715-659-0773