Celebrating Dairy Farmers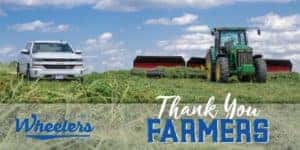 Farmers are the backbone of our society. They work hard year-round to care for their animals and land to produce quality milk and food for us and for animals. They are up from the crack of dawn until sunset 7 days a week. Then up at all hours when their animals are giving birth.  They don't get to go home and forget about work. Farmers have a passion and dedication to the craft of nurturing both animals and crops.
June is dairy month. A month dedicated to celebrating these hardworking people and the future generations. Wheelers Family Auto group sincerely appreciates all of the men and women who invest their energy and dedication to the dairy industry. Thank you for all you do.
You can show your appreciation by thanking a farmer and attending a dairy breakfast or event.
Neillsville Area chamber of Commerce Dairy Breakfast

June 9th, 2019 – 7am – 12pm

Mathis Dairy

W5325 State Hwy 73

Neillsville, WI

Pittsville FFA Alumni/FFA June Dairy Breaktfast

June 15th, 2019 – 7 am – 11 am

Grass Ridge Farm LLC

5385 2nd Ave

Pittsville, WI

Marshfield FFA Alumni June Dairy Breakfast

June 16, 2019 – 7am – 12pm

6649 Pleasant Hill Rd

Auburndale, WI

Loyal Dairy Breakfast

June 16th, 2019 – 7am – 12:30pm

RZ Builders

204 E W Mill Street

Loyal, WI

Colby Dairy Breakfast

June 23rd, 2019 – 7am -12pm

Heeg Brothers Dairy, LLC

F2181 Country Road N

Colby, WI

23rd Annual Greenwood Dairy Breakfast on The Farm

June 30th, 2019 – 7am -1pm

Stieglitz Dairy. LLC

N8280 River Ave

Greenwood, WI

For more dairy breakfast and events around the state visit https://hooraywisconsindairy.com/