Wheelers of Coloma Hosting Brat Fry to Support Waushara County K9 Units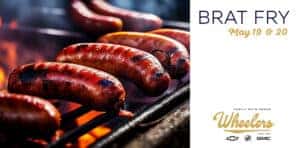 Wheelers Chevrolet and Buick of Coloma will be hosting a brat fry on Friday, May 19 and Saturday, May 20 to benefit the Waushara County Sheriff's Department K9 Units.
From 10 a.m. – 2 p.m. on Friday and 10 a.m. – 1 p.m. on Saturday, you can stop by Wheelers Chevrolet Buick in Coloma to enjoy brats, soda, K9 demonstrations, drone demos and much more.
Waushara County Sheriff Wally Zuehlke said the K9 sector of the department is 100 percent funded by the community.
"The K9 units are totally funded by donations and brat fries through the Crime Stoppers," Zuehlke said. "The purchasing of the dogs, the maintenance, the training, everything is funded by these events and donations."
Wheelers staff will also be in attendance and attendees can check out new vehicles in stock at the Wheelers location and even take them for a test drive. Gift baskets with free oil changes, t-shirts, Chevrolet gear and much more will be given out to those in attendance as well.
Wheelers Chevrolet Buick in Coloma said the community has long been supportive of law enforcement in the Coloma area.
"There's been longstanding support for our law enforcement partners, especially in the community of Coloma," they said. "The K9 unit in this area is completely donation funded so this helps keep their K9 dogs fed and serving the community."
Wheelers Chevrolet Buick of Coloma Sales Manager John Nixon said he has been helping to organize this event since 2008.
"We've been doing this for the last 14 years," Nixon said. "We have demonstrations with the K9s and we do drone simulation and some other takedown activities."
Nixon said the location of Coloma and the dealership is at a major highway intersection meaning extra patrol to search for drug activity can help to keep people in the area safe.
"We're in a corridor right near the intersection I-39 and Highway 21," Nixon said. "All of these crossings that have a major intersection like this is generally a good meeting place for drug traffickers. Having three K9s in our Sheriff's Department has been extremely helpful."
Wheelers Chevrolet Buick in Coloma is located just off of I-39 at 1978 Charles Way in Coloma, WI. The Wheelers Family Auto Group has six locations across central Wisconsin and has a large inventory of new and used cars available. Visit one of their locations in Abbotsford, Coloma, Marshfield, Medford, Merrill or Wisconsin Rapids or check them out at www.wheelersgm.com.