Wheelers to Showcase Automotive Careers at Medford Career Fair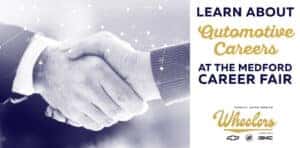 The Medford Area School District in partnership with the Medford Area Chamber of Commerce is hosting a "Homegrown Success Career Fair" called "Growing our Future Together" on Tuesday,
May 16th, 2023 at the Simek Recreation Center .
Wheelers representatives will be in attendance to showcase the wide variety of career opportunities available in the automotive industry.
"We're excited for the opportunity to meet with approximately 900 students of the Medford, Gilman, Owen-Withee, Abbotsford, and Prentice High Schools and provide them with a better understanding of their career goals, interests, and local opportunities in this career field," said Mary Jo Wheeler.
Students will have an opportunity to meet with Wheelers team members during the school day as part of the event and are encouraged to learn and ask questions.
"The automotive industry is constantly evolving and innovating, with new technologies and trends emerging all the time," said Wheeler. "This makes it an exciting field to work in, with many opportunities for professionals to develop their skills and stay at the forefront of the latest developments."