CHARGING ABOVE MSRP – NOT THE WHEELERS WAY
With supply-chain issues creating a lack of vehicles available on dealership lots, many places around the country have raised prices on vehicles.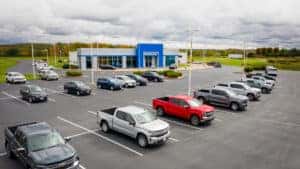 According to Edmunds.com, consumers paid 0.3% above sticker price in early 2020. That number jumped to 2.8% in 2021 and now, car buyers are paying a whopping 82% above MSRP value in 2022.
This hike is in part because consumers are willing to spend more for a vehicle when there aren't as many in stock, but these price hikes aren't how Wheelers operates.
Wheelers Chevrolet and GM Sales Manager Nat Bremer said he's heard horror stories of dealerships overcharging for vehicles, but Wheelers hasn't done that.
"Being a family-owned and operated business, we believe that our customers matter," Bremer said. "By keeping our prices at MSRP and not going above, it's providing a service to our local customers. We've heard crazy stories where dealerships are charging $10,000 over sticker prices and people are paying it. We just refuse to do it because we take care of our local people."
Bremer said the "Wheelers Way" makes customers a part of the Wheelers family.
"The Wheelers Way to me is just the fact that it's all about the community aspect of it. We spend a lot of time here at the dealership, so we know each other very well. We are going to take care of the person that's buying that vehicle 100% of the time. It starts with Dan Wheeler, Mary Jo Wheeler and the top and trickles down from there."
Bremer also noted that he expects the market to level out a bit as lots fill up with more readily available vehicles.
"I hope that's going to happen," Bremer said. "We're probably going to be in low inventory mode until the middle of next year. GM has done well at getting vehicles to us. The reason you probably see low numbers and low inventory is because we're doing more order outs than ever before."
Order outs allow customers to purchase and customize their vehicles from the comfort of their own homes and get the vehicle delivered to a local dealership for inspections and other amenities.
To get started ordering a vehicle or viewing Wheeler's inventory visit their website.
Wheelers has six locations across central Wisconsin and has a large inventory of new and used
cars available. Visit one of their locations in Abbotsford, Coloma, Marshfield, Medford, Merrill or Wisconsin Rapids or check them out http://www.wheelersgm.com/.