GM ASEP – EARN WHILE YOU LEARN
Wheelers Family Auto Group Paid Internship Program with GM Automotive Service Educational Program (GM ASEP) Program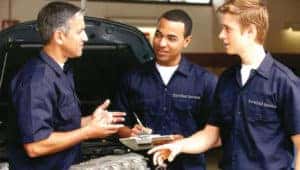 Skilled trades are in high demand, especially in the automotive field. The GM Automotive Service Educational Program (GM ASEP) is an innovative training program designed to prepare new automotive students for a technical career.
In partnership with Fox Valley Technical College and General Motors, Wheelers Family Auto Group offers a training model that combines coursework focused on cutting-edge vehicles, diagnostic and repair techniques with hands-on classroom training, and a paid internship experience in a dealership environment.
The program incorporates a strong academic foundation of math, reading, and electronics coupled with both analytical and technical skills using GM products. After completing the program, students are prepared to begin a high-demand career as an automotive technician at Wheelers with NO student debt, as well as a two-year degree transferable to most Wisconsin universities. In addition to industry-recognized GM technical certifications, graduates will receive an Associate Degree in Automotive Technology.
Since 1964, Wheelers' commitment to excellence in automotive training and support of the GM ASEP program has produced a state-of-the-art repair facility serving Central Wisconsin and emerged as a leader in the area.
While many jobs are being outsourced from America, the automotive technician is one career that cannot be outsourced. Once accepted, students intern with an employer who is interested in hiring them upon graduation. Most GM ASEP graduates gain employment at their sponsoring employer after graduation. In fact, many GM ASEP and Fox Valley Tech have 100% placement upon graduation.
• Wheelers GM ASEP students are under contract for 2 years after graduation to receive tuition reimbursement. To receive tuition reimbursement, their student apprentice is required to sign an employment contract.
• A student technician starts at $15/hour and is given a $0.50 increase for every semester completed, graduating at $17.50-18/hr.
• Their plan also covers tool purchases during the first and third co-ops.
• Wisconsin Auto & Truck Dealer Association (WATDA) scholarship opportunity.
• Enjoy GM incentives for World Class Technicians.
HERE'S WHAT YOU CAN EXPECT AS A MEMBER OF OUR TEAM:
• Medical, dental, and vision benefits
• Short-term disability benefits
• Long-term disability benefits
• Paid vacation
• Paid holidays
• Life insurance
• Competitive compensation
• 401(k) with company match
• Company-wide wellness programs
• Discounted vehicle purchases
• Clean and professional work environment
• Relocation assistance available for qualified candidates
INTERESTED IN A CAREER AS AN AUTO TECHNICIAN?
"Wheelers automotive technicians are the backbone of the business—it's important to us to provide all of our techs with as many tools and benefits as possible to show our appreciation for the crucial work that they do," said Mary Jo Wheeler, owner.
Here are some additional perks you can expect as a tech:
• State-of-the-art, brand-new facility with lifts that are annually inspected
• Shop equipped with the newest technology and equipment
• Uniforms provided with individual lockers
• Highly productive shop
• Great learning environment for technicians looking to grow their careers
• ASE reimbursement and all training expenses paid to further career, included GM school
• Continued Education, including manufacturer hands-on and web-based training
• Clean and professional work environment
• Relocation assistance available for qualified candidates
• Paid transportation of toolbox