Wheelers Chevrolet of Medford Sponsors Local Motorcycle Racer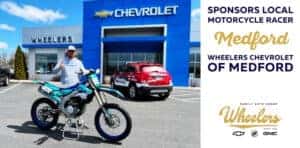 Wheeler's Chevrolet of Medford is proud to announce its sponsorship of Garrett Strama for the summer of 2023. Garrett is set to race in the District 16 AMA, riding a 2022 Yamaha YZ 250F, and we couldn't be more excited to support him in his endeavors.
As the summer of 2023 approaches, we at Wheeler's Chevrolet of Medford will be watching Garrett's progress with great interest. We wish him all the best in his upcoming races and look forward to seeing him achieve great things on the track. With hard work, dedication, and the right support, we believe that Garrett has what it takes to become a true motocross champion, and we are proud to be a part of his journey.