Wheelers Opens New Chevrolet Dealership in Merrill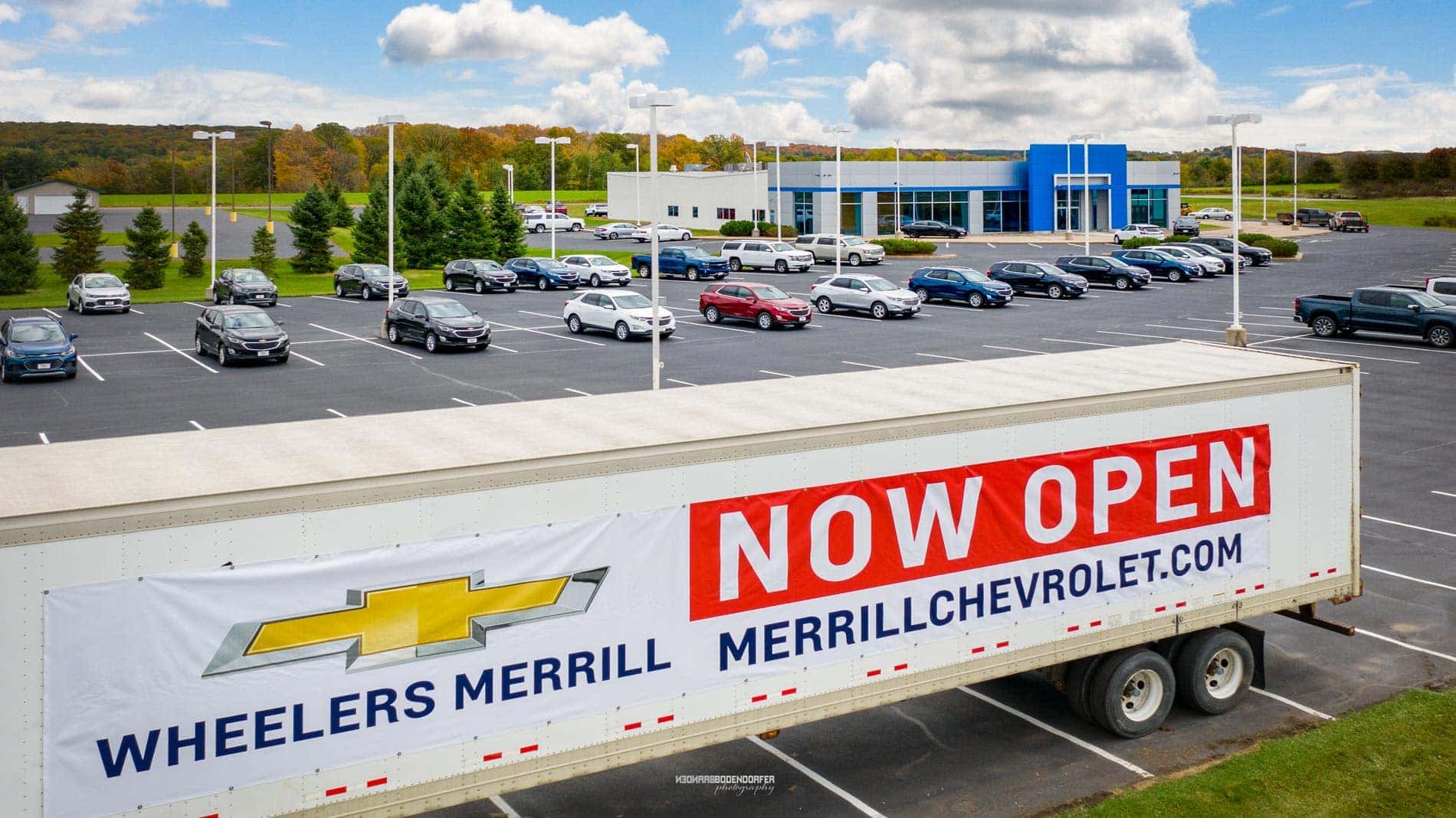 Wheelers Opens New Chevrolet Dealership in Merrill
Location Expected to Create 30 Jobs
Merrill, WI – Last month, Wheelers Family Auto Group,  which has locations currently in Medford, Abbotsford, Marshfield and Wisconsin Rapids,  officially brought Chevrolet back to the Merrill community, after the previous dealer Stark Automotive closed the location in 2019. The new location will include new Chevrolet vehicle sales and service, used vehicle sales, and service of all makes and models.
With the goal to expand jobs and services in Central Wisconsin, Wheelers Merrill location is the fifth city for Wheelers to expand into. With locations in Wisconsin Rapids, Marshfield, Abbotsford, and Medford. 
Wheelers Chevrolet of Merrill features a newly-remodeled interior with fresh paint and new tile as well as the latest requirements to bring the Chevrolet branding up to General Motors standards. Wheelers also installed the latest technology in their service center.
The location is expected to create 30 jobs in the next 24 months.
"We were excited to open the location in Merrill because we're excited to bring a car-buying experience to the Wausau-area market that's based on family values," said Mary Jo Wheeler, Dealer Principal/Owner.
"We're thrilled to restore Chevrolet to the Merrill market and support our current and future customers with all their automotive needs ," said Daniel Wheeler Dealer/Owner.
2020 has had its share of uncertainties, but Wheelers chose to harness the positives and view this year as an opportunity.
"There's a lot of opportunity here. It's a great brand, both the Wheeler family and the Chevy brand itself. For two great brands to come together in a new location like Merrill, and to get the Wheeler name on HWY 51, it's amazing!" said Michael Umhoefer, General Manager. "We're looking forward to making the car experience fun and exciting again."
"Visitors to our location can expect the very best buying experience," added Mary Jo. "From the time you enter our showroom to when you service with us, you can expect to be treated like a member of the Wheeler family, each and every visit."
For more information about job opportunities at Wheelers Chevrolet of Merrill, email careers@wheelersgm.com or call 715-502-5562. The new dealership is located at N259 Brandenburg Ave, Merrill, WI.
For more information about  Wheelers Chevrolet of Merrill please visit www.merrillchevrolet.com.
###
ABOUT WHEELER FAMILY AUTO GROUP:
'Wheelers' was created in 1964 by Dan W. Wheeler. At the time, Dan was employed by General Motors as a district manager. S&S Chevrolet in Marshfield was one of the stores he would check in on. It was during a funeral for one of the partners of S&S that discussions arose about the eldest partner wanting out of the car business. Unfortunately, the young man who had passed was the owner's "retirement plan." The question of Dan Wheeler purchasing the dealership came up, but Wheeler did not have the money. S&S Chevrolet owner offered to lend a hand and soon after, Wheelers Chevrolet was born.
Ann Wheeler (born Maryann Pernsteiner in Medford, WI), was employed shortly after the ownership transfer, in June of 1965, and became one of just a handful of female dealers in the state of Wisconsin. In 1985 she was officially named Dealer for Wheelers Chevrolet. In 1995, the Wheeler Family purchased Crown Oldsmobile, Pontiac, and Cadillac. In 2005, Ann purchased the GMC franchise from Mid-State Truck Service, cementing the future of Wheelers as the General Motors dealership in Marshfield.
In July of 2011, Mary Jo Wheeler-Schueller and Daniel Wheeler purchased a Tires Plus store on the northside of Marshfield next to Target, renaming the facility Wheelers Auto Repair & Tire Center. In that same year, Mary Jo and Daniel also purchased M&H Chevrolet in Medford, bringing the Wheeler name to Ann's hometown.
Ann Wheeler then purchased Neuville Buick in 2015 and Ironside GMC in 2016, both of Wisconsin Rapids. Her final purchase was Wehrs Chevrolet in Bangor in 2016, moving the franchise to Wisconsin Rapids.
Continuing on after the passing of their mother in 2017, the Wheeler family continued with the building of the new facilities in Wisconsin Rapids. In September 2017, Wheelers was presented with the opportunity to purchase Sebold Chevrolet in Abbotsford. In 2020, they opened Wheelers Chevrolet of Merrill. As of now, eight different buildings comprise Wheelers Family Auto Group. Wheelers is proud to be centrally located in the state of Wisconsin and to service and give back to their communities.
The Wheelers are proud of the people who make it a successful organization and an interesting place to work. The employees and customers are like family to them. The Wheeler children will continue on with what their mother and father had bestowed upon them. In the words of Ann Wheeler, "With hard work, determination, and a little elbow grease, a person could do anything."
ABOUT CHEVROLET:
Founded in Detroit in 1911, Chevrolet celebrates its centennial as a global automotive brand with annual sales of about 3.5 million vehicles in more than 130 countries. In the U.S., the Chevrolet portfolio includes: iconic performance cars such as Corvette and Camaro; dependable, long-lasting pickups and SUVs, such as Silverado and Suburban; and award-winning passenger cars and crossovers, such as Malibu, Equinox and Traverse. Chevrolet also offers "gas-friendly" solutions, such as Chevrolet Cruze Eco with an EPA-estimated 42 miles per gallon highway, and the Chevrolet Volt offering 35 miles of electric driving and an additional 344 miles of extended gasoline range, according to EPA estimates. Most new Chevrolet models offer OnStar safety, security and convenience technologies including OnStar Hands-Free Calling, Automatic Crash Response and Stolen Vehicle Slowdown. More information regarding Chevrolet models, fuel solutions and OnStar availability can be found at www.chevrolet.com.