Wheeler's Committed to Local Buyers, Will Not Charge Over MSRP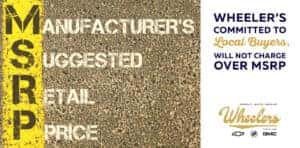 Wheelers Family Auto Group is proud to offer a unique approach to pricing our vehicles. Unlike traditional dealerships that engage in negotiation, haggling, and upselling, Wheeler Dealerships follow a "no-haggle" pricing policy, which means that the price you see is the price you pay. In addition, we do not sell above MSRP (Manufacturer's Suggested Retail Price).
MSRP is a price recommended by the manufacturer, and it is typically used as a starting point for negotiations. However, some dealerships may choose to sell vehicles above MSRP, taking advantage of high demand or limited supply. By selling at or below MSRP, Wheeler Dealerships ensure that their customers are getting a fair price.
The no-haggle pricing policy is a departure from the traditional method of pricing cars, where dealerships set a higher price than they expect to receive and leave room for negotiation. This practice often leads to customers feeling frustrated or manipulated and can create a lack of trust between the dealer and the buyer. The no-haggle policy removes this uncertainty and provides customers with a transparent and straightforward price.
One recent buyer wrote: "No haggle pricing. They do not sell above MSRP. Honest conversation with the salesman. Every condition I asked for was met. Amazingly good sales experience. Higher standard of integrity than other vehicle purchases I have experienced."
Wheelers Chevrolet and GM Sales Manager Nat Bremer said he's heard horror stories of dealerships overcharging for vehicles, but Wheelers hasn't done that.
"One thing I've noticed with other dealerships is they have actually increased their prices above MSRP," said Bremer. "I've seen upwards of over $30,000 to $50,000 more on some models such as Corvettes. One thing that we've really set a tone here at Wheelers is that we have not sold even one vehicle over MSRP."
"Being a family-owned and operated business, we believe that our customers matter," he added. "By keeping our prices at MSRP and not going above, it's providing a service to our local customers. Our local community matters to us. And in tough times, if we raise our prices, all we're going to do is hurt our community."
Another thing Wheeler's strives to do is keep inventory available for local people.
"Instead of selling to people from Montana or Colorado or all over the country, we try to keep it local," said Bremer. "We want to take care of our local people first."
Wheelers' commitment to selling cars at or below MSRP is another way we build trust with their customers.
To get started ordering a vehicle or viewing Wheeler's inventory, visit their website.